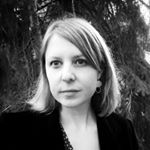 Jennifer Marcson is a formally trained artist working primarily in precious and semi-precious metals, but combines other materials into her works frequently. In addition to display and worn jewelry, her body of work includes paintings, ceramics, drawings, and mixed media pieces. She has a BFA in fine art and is completing a MFA in the same. Her work is displayed and sold locally as well as internationally. She has and extensive body of existing work and also takes commissions.
Artist Statement
My work embodies the hidden rage and frustrations that manifest in the bodies and minds of women who are oppressed through verbal assault, physical assault and acts of aggression. As a result, unrealistic definitions of femininity can become internalized and women experience negative physical and mental consequences. I externalize this inner tension through engagement with tactile materials in installation and wearable art.
Passivity, anxiety and anger are some of the responses I have experienced while grappling with being a woman and a feminist in our patriarchal culture. By creating multiple iterations of fingers and fists, each unique in finish, color, weight and size, I illustrate the subtleties of oppression, and our perception of it.
I question the damaging sublimation of self that occurs when anger at injustice, insecurity, and oppression are hidden. This work aims to remind us to be conscious in these moments, conscious of our own feelings, and conscious within our bodies.